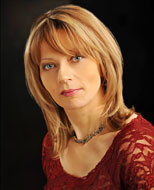 A native of Warsaw, Poland, Dr. Ivona Kaminska holds the highest level of pianistic education with four graduate-level degrees from three countries: Poland, Canada and USA. Combining the best teaching characteristics of the old European traditions with modern American pedagogy, she has helped generations of students achieve national and international success. She excels in taking beginners and transfer students to international achievement and recognition. She is adored by students for her unlimited devotion to them, support, passion, as well as straightforwardness and sense of humor.
Due to her extensive experience in the field of teaching and academia, many of her students are bestowed generous scholarships in festivals and for undergraduate college degrees. Her students perform regularly as laureates of competitions at Carnegie Hall, Salle Cortot in Paris, Conservatori del Liceu in Barcelona, and several other prestigious centers. Dr. Kaminska also provides masterclasses and other opportunities to her students to coach with such eminent guest artists, including Julian Martin from the Juilliard School of Music, Logan Skelton from the University of Michigan, Francesco Nicolosi, Italy, and many more guests. Her students are regularly winners of competitions on local and international levels, and in 2016 her pupils took all three top prizes in the Outstanding Artist Competition in the state of Washington.
Dr. Kaminska also enjoys contributing to the world music community by directing the Seattle International Piano Competition and Festival, which was recognized by Wall Street Journal as one of the most inclusive piano competitions of our times. She is also the founding director of the Chopin Academy of Music, in Issaquah, which she developed with her husband, Dr. Bowlby, in 2005.
Dr. Kaminska holds a Masters of Arts Degree from the prestigious Chopin University in Warsaw, Poland as well as the Post-Graduate Artist Performance Diploma. She has broadened her European education at the Mozarteum Festival in Salzburg as well as Schleswig-Holstein Festival in Lübeck, Germany. As a recipient of many scholarships herself, she also was awarded a Masters of Music Degree from the University of Nebraska, and Doctorate in Piano Performance from the University of British Columbia, Canada.
Before devoting herself fully to the pre-college teaching, Dr. Kaminska worked as an instructor in the University of British Columbia, Shoreline College in Seattle and Cornish College of the Arts. She has been also invited to teach in the Tsar's Village Festival in St Petersburg (2013), University of Southern Oregon, Cornish College Piano Institute, and Barcelona Piano Academy in Spain. She enjoys a vibrant performing career as a duo pianist with her husband, Dr. Christopher Bowlby. The duo performed in several countries, including Italy, France, Spain and Poland, aside from regular concerts in the USA.
Dr. Kaminska invites students of all ages and levels who are truly passionate about piano to contact her at ivona@chopinacadmey.com
For more info, music samples and concert schedule,
Current openings: limited
Do you wish to contact this instructor directly? ivona@chopinacadmey.com
Additional Languages Spoken: Polish, German, Russian