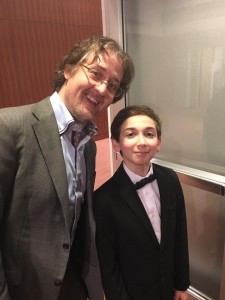 Monday, March 7, 2016
Last night, eleven-year old Chopin Academy student, Julian Frank displayed his passion and virtuosity in a striking performance of the first movement of Mozart's Piano Concerto in D minor, K. 466. A violinist with the Bellevue Youth Symphony Orchestra, last night at the Meydenbauer Center for Performing Arts he demonstrated that he is more than just a violinist, after winning the orchestra's concerto competition at a astonishingly young age.
Even more so, Julian is a prodigious and prolific composer with interests that span conducting, orchestration, and far more.
A former student of Dr. Oksana Ejhokina before attending the Chopin Academy of Music under Dr. Bowlby two years ago, Julian already has a stunning number of awards, accomplishments, and performances, having performed already at age ten in Weill Hall at Carnegie Hall. Already immersed in a high school program, with broad interests in language, literature, and math, one wonders, do we have a Doogie Howser on our hands?
Julian is a consummate musician, with a penchant for Scriabin and Beethoven. Dr. Bowlby noticed uncommon qualities when he first came into contact with Julian. "The boy could sit down and play all 32 Sonatas by Beethoven — the beginnings of them, at least. It's not every day you find a young musician with such passion and motivation to absorb all that literature," said his teacher.
Still anticipating bigger hands to be able to handle bigger repertoire, Julian's enthusiasm nonetheless drives him to accomplishments previously thought to be the sole domain of the mature artist.
"I remember last year when he came begging to play Op. 109," said Dr. Bowlby, referring to Beethoven's magnum work for solo piano. "109 challenges even the most mature concert artists. Given that Julian will probably be ABD by the time he's 16, I imagine that sonata will be attainable for him in the not-so-distant future…"
Congratulations to Julian for a phenomenal performance to standing ovation last night.