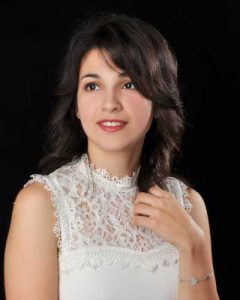 Mirette Hanna started her journey into music at the age of seven when she joined the Cairo Conservatory and received her first piano lessons with the Egyptian Pianist Marcelle Matta, who offered her a strong foundation and accompanied her until the completion of her Bachelor studies in 2010. Her ambitious passions took her to France, for her admiration of the French music and culture. Her experience as a student at the Conservatoire de Montpellier and Conservatoire de Lyon opened widely her visions towards her career as a musician.
Thanks to the Foundation "Oeuvre St. Justin" in Fribourg, Switzerland, she obtained a scholarship to continue her studies with the Austrian pianist Gottlieb Wallisch at the Haute École de Musique de Genève, where she obtained her Master's degree in Piano Performance and Pedagogy in 2014. Mirette received several local prizes in Egypt as well as international prizes such as: the 1st Prize in "Les Joutes Supérieures des Adhémar" competition in Montelimar, France April 2011, under the artistic supervision of the Pianist Teresa Llacuna; and the absolute 1st prize of category "B" ex-aequo at the Roma Piano Competition organized by the association "Fredyryk Chopin" directed by the Italian pianist Marcella Crudelli in 2013.
She performed many concerts as chamber musician and as a soloist in solo recitals or with different orchestras in Cairo, Alexandria, Montpellier, Paris, Lyon, Rome, Fribourg, Geneva, Neuchatel, Savonlinna, Guangzhou, Shenzhen and Miami.
In 2019 she finished her doctoral studies under the mentorship of pianist Kevin Kenner and received her Doctor of Musical Arts degree from University of Miami.
Mirette loves nature and believes that the notions of beauty in Arts are but a reflection of nature. She usually links elements from nature to her teaching methods and to her performances. She enjoys teaching young children and gets inspired by their genuine and creative abilities and by their pure imaginative worlds. Her experience with teaching started in 2009 and she is still in touch with some of her old students who now started their own professional careers.