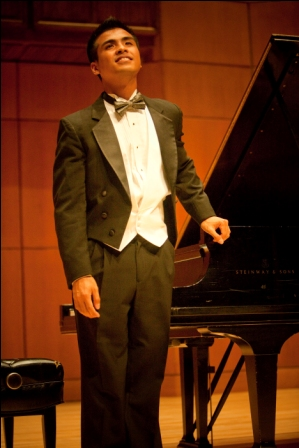 Ross Salvosa is one of the Pacific Northwest's (Seattle-USA and Vancouver-Canada) most sought after piano pedagogues. His students have won numerous competitions (both national and international) and have performed as soloists with local and international orchestras. Ross is renowned for developing prodigious talents from early formative ages to young professional artist-musicians. His deep knowledge of early childhood technical and musical development enables him to guide young artists towards the mastery of the instrument and its performance practice. His humorous and encouraging approach to teaching inspires his students to develop a love for music while striving for excellence. Ross continues the legacies of the great Filipino pianists/pedagogues Reynaldo Reyes, Emilio Del Rosario and Ernesto Lejano.
Ross has been performing in concert venues around the world as a soloist, recitalist, collaborative artist, chamber musician and conductor. Ross first captured the public's attention at the age of ten after winning the Philippine National Music Competition for Young Artists under the tutelage of renowned Filipino pedagogues Mauricia Borromeo, Reynaldo Reyes, Emilio Del Rosario and his aunt Ruby Salvosa and has won numerous competitions since. Ross has an extensive range of solo, concerto and chamber music repertoire and frequently performs newly written contemporary works for solo piano and chamber ensembles.
Ross is the chairman and artistic director of the Music Without Borders Society and is currently a doctoral candidate in Musical Arts (thesis pending) majoring in Piano Performance and a recipient of the Mildred Johnson Scholarship for music at the University of British Columbia under the guidance of legendary pianists Kenneth Broadway, Ralph Markham, Dr. Sara Buechner and Dr. Corey Hamm. He received his Bachelor and Master of Music Degree on a full scholarship graduating magna cum laude at the Conservatory of Music at Lynn University (formerly the Harid Conservatory of Music) under the tutelage of Dr. Roberta Rust and Philip Evans.
Current Openings: studio currently full