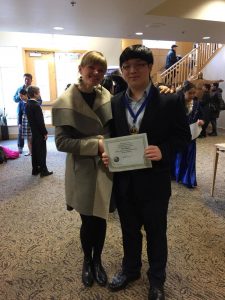 At the Chopin Academy, we create a comfortable, fun, and nurturing atmosphere suitable for any student. We have open admission and welcome students of any age, ability, and set of goals.
This is the perfect program to sign up, and go on a musical journey, regardless of whether one is a five-year old beginner, or an adult. Discover musicality within yourself, and develop a love for music-making, regardless of whether one pursues standard classical, jazz, or even pop music. We welcome students of all ages and all levels.
Students enrolled in this program can enjoy multiple performing opportunities, as well as free-of-charge monthly group performance classes that train even the most shy individual to come out of their shell — to play in front of peers and parents with confidence and fun. Many of our students over years have turned into extremely secure performers and have even performed on the stages of Benaroya Hall and other prestigious venues.
The Chopin Academy of Music also offers fun group theory classes, which help to reinforce basic note-reading, concepts of rhythm, and ear-training. These theory classes are in addition to private instruction, non-mandatory, but may only be joined during the month of September. However, the CAM invites students to enroll in private lessons throughout the year at any given point.
The Chopin Academy of Music is comprised of highly educated, internationally trained, creative, and fun instructors in flute, piano, and violin, who are passionate about music and teaching, and know how to communicate with students of any age or level.
Often, students will discover within themselves over time a greater passion for music, and then take a step further, participating in performing festivals and competitive events. In these cases, we encourage students and parents to communicate with their instructors or directors their desires to switch to the "Exam Track," or "Competition Preparation" programs, both more structured curricula at the CAM that help to attain these goals. These programs may be joined at the beginning of the school year as long as he or she is an intermediate beginner.
Shortly speaking, our motto at the CAM is that every student, regardless of whether one wishes to play pop, jazz, or strives for achievement in competitive events, deserves a quality teaching. If one wishes to experience the joy of playing an instrument, one has to learn to do it in a natural and healthy way, which anyone can approach with the right training — but only from a highly qualified teacher. For those, however, who wish to go "all the way," Chopin Academy is their home.