The Major family did the exceptional last weekend. They all have been looking forward to this day since obtaining tickets last December. Packing their best clothes, they all went to Los Angeles.
Why did they go? Was it for a Disneyland vacation? A warm getaway? A theme park marathon?
Nope. The Major family went for an entirely different reason. You might all be scratching your heads, but these are the exemplars; the shining quintessence of what every music student should be doing…
They went to hear classical concert pianist, Denis Matsuev, in a live concert.
When first formulating the idea, Attila and Maria Major found the idea of traveling for the sole purpose of attending the concert far from frivolous. Knowing that musicians and composers of the past could only be exposed to great music through live performances, it was fair to believe that it is the best way to experience it. And how right they were!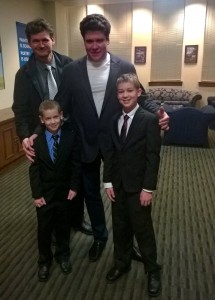 Their second son, Daniel, one year came home from a lesson with a catchy tune. "Around Halloween time he came back from his piano lesson and tried to play the 'spooky' tune often used in Halloween themed commercials and cartoons," said Daniel's father.
Recognizing it as the theme from Grieg's famous work from Peer Gynt, In the Hall of the Mountain King, the Majors began searching YouTube for inspiring performances in order to help Daniel add more spark.
"I found Matsuev perform it and we watched with our mouths open. It gave a tip how to help Daniel to add some color to his simple tune, but also brought up many links to Matsuev's other performances of Prokofiev and Rachmaninoff piano concertos that I am a fan of."
They were hooked, and quickly became a fan of the acclaimed Russian pianist as well. That prompted Atilla and Maria to check Matsuev's performing schedule, which unfortunately did not include Seattle among its performance centers.
"Santa, though, could arrange him to come to California in January and got tickets for us, so we used the opportunity and flew down to sunny LA for the recital," Attila said. "The boys enjoyed it a lot, they loved the preparations, dressing up for the event and the growing excitement up until the minute the recital started."
They enjoyed solo piano works by Schumann, Tchaikovsky, Stravinsky during the recital, and a slew of encores, including some jazz selections.
"Watching a virtuoso is a perfect presentation that piano is played not only with the fingers, but from head to toes and the kids were amazed."
It is exciting and inspiring to see a family place so much importance in music. It is now easy to see from where the boys derive their musical intuition and keep passionate about their piano playing. Lessons alone cannot sustain such fervor. Such experiences also provide a means for families to come together to form tighter bonds.
We salute the Majors, and encourage every family to make it a point to regularly try to attend a live classical concert.
Thank you for the wonderful story, Attila & Maria!