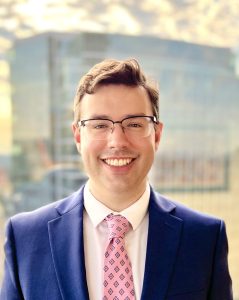 Pianist Reid Wolch's performances are described as "polished and graceful" (Igor Lipinski), "ravishing" (Peter Takács), and possessing "unaffected yet elegant musicianship" (Marina Lomazov). Reid is an accomplished soloist and collaborative musician who has received recognition on the regional and international stage, most recently at the Los Angeles International Liszt Competition, the Stecher and Horowitz Two Piano Competition, and the MTNA Young Artist Competition. Reid's continues to perform and collaborate at events such as the Beijing International Music Festival, Icicle Creek Winter Piano Festival, and Colorado Public Radio's 'Spotlight Series.' Reid earned his Masters of Piano Performance in 2022 under the tutelage of Dr. Steven Mayer at the Lamont School of Music, where he also served as a Graduate Teaching Assistant. Prior to his graduate studies, he studied under the instruction of Dr. Oksana Ejokina at Pacific Lutheran University while also earning his Bachelor of Economics.
As a teacher, Reid is committed to helping his students achieve their highest potential. Reid encourages individual creativity and artistic expression, while maintaining a steadfast dedication to ensuring his students have mastered the fundamentals. Prior to the Chopin Academy of Music, Reid served as an instructor at Miller School of Music and Kaleidoscope School of Music.
Reid is a passionate collaborative musician. Along with his partner Jennie Liú, Reid founded a two-piano ensemble, 'Rocky Mountain Duo', which has received recognition nationally and internationally. Reid frequently puts on collaborative recitals with his family, all of whom play different instruments. Outside of Reid's musical interests, he enjoys keeping up with financial markets, finding new hiking trails to explore, and drinking all types of coffee.