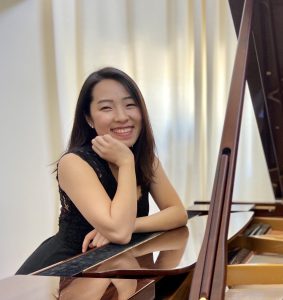 Kiwa is originally from the Kanagawa Prefecture of Japan. After completing her studies at Ueno Gakuen Music School in Tokyo, Kiwa moved to the United States to pursue a career in piano performance. She currently holds a Bachelor of Music and Master of Music from the University of Washington, studying under Dr. Robin McCabe. In addition to Dr. McCabe, Kiwa has studied under Willard Schultz in Seattle and Mieko Yanagihara in Japan.
In 2020, Kiwa was awarded an honorable mention in the National Young Artists' competition. She took 1st place at the UW School of Music Concerto Competition and performed a Mozart Piano Concerto with the UW Symphony. In 2022, she took 1st in the University division of The American Prize in Piano Performance. She recently performed McDowell's Concerto No 2 with Philharmonia Northwest and Mozart No 14 with the UW Symphony. She also collaborated with the University of Washington Wind Ensemble and played Concerto for Piano and Wind Ensemble by Nancy Galbraith and Concertino for Piano, Winds, and Harp by Kamiló Lendvay. She also has had many experiences performing in recitals and private parties, including Masada Children's Fund and the University Rotary. She recently performed at the graduation celebration of music department of University of Washington as a representative of graduates.
Kiwa has been playing the piano since she was 3 years old, and from that moment discovered piano as her true passion and one of the best tools to express emotions. Kiwa strives to show students how to discover and develop their own passion for music, something that they can treasure throughout their lives. First and foremost, her main focus is to ensure that students truly enjoy any time spent learning piano. Keeping piano fun and seeing the inspiration in students is her most beloved aspect of teaching. She firmly believes that developing music skills is deeply enriching across all age and skill ranges and enjoys teaching anyone who has a willingness to learn.
Kiwa combines a unique approach of both English and Japanese teaching methods and is fluent in both languages. She places great emphasis on building strong technical fundamentals, as this is paramount to the early learning experience, as well as future growth. Learning music is a journey, and a teacher is responsible for guiding the student along an enjoyable path. Kiwa highly values the needs and interests of the student, working with them to create a curriculum that is both effective and engaging.
Additional Language Spoken: Japanese