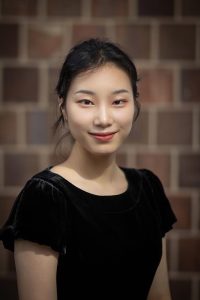 Dr. Xinzhu (Zoe) Ma (ABD) is an YAMAHA Young Performing Artist and is now finishing her Doctoral degree in Piano performance and Literature under the tutelage of Marina Lomazov at Eastman School of music. Prior to her study at Eastman, she received her Master's of dual-degree in Piano Performance and Chamber Performance from University of Michigan under the tutelage of Arthur Greene and bachelor's degree under Tianshu Wang at Capital University.
Xinzhu has won many awards and scholarships and most recently, she has been awarded second prize in the Sugree Charoensook International Music Competition in 2021. Xinzhu has won her title of YAMAHA Young Performing Artist in 2019 along with many scholarships including NR- GRAD Merit Scholarship, like NR-JAMES A Walgreen Keyboard Scholarship, and NR-Joan Elizabeth Volz Scholarship. In her undergraduate years, Xinzhu was a finalist in the 7th Bösendorfer and Yamaha USASU International Piano Competition, and Grand Prize Winner in Pan Asian Young Artist Music Competition. In addition, she was also the finalist of Nomea International Competition and was a young juror of Author Fraser International Piano Competition in 2021.
She was the recipient of the Perrini Award for Outstanding Sophomore and Keller Award for Outstanding Freshman. Winning the first prize in Women in Music Columbus Audition and Student Concerto Competition, Xinzhu played Beethoven Piano Concerto No.2 with McConnell Chamber Orchestra and David Maslanka Piano Concerto No.2 with Capital Symphonic Winds in 2016. In Music Fest Perugia (Italy), Xinzhu also played Beethoven Piano Concerto No.3 with Virtuosi Brunenses Orchestra in 2018.